VR
2018
Stereo sound
Emergence is an awe-inspiring VR open-world art experience, visualising patterns of human behaviour and exploring the individual and the collective. It immerses the player in a crowd of thousands, against a changing canvas that is at varying points wondrous and intimidating, realistic and fantastical.
You control one solitary, glowing avatar amongst a mass of autonomous strangers, each of whose movements react to your own. As your pace and directions influence others as both individuals and as a whole, you essentially become the choreographer of the crowd.
The crowd's movements are programmed to simulate intelligent behaviours (including avoidance, following and mimicry), reflecting the seemingly endless ways that humans act in group settings. Viewed from above, these movements create mesmerising patterns against the landscape. A shaft of light beckons you – each time you reach the light, this landscape shifts, along with its soundtrack, gravity, atmosphere and mode of movement.
Emergence doesn't dictate a goal. There's no fixed succession of tasks that lead you to 'completing' the game. The experience instead is a powerful challenge to the player's perception. Are you a leader inspiring a devoted following, or a defenceless figure overwhelmed by the encroaching horde? Emergence compels you to adjust to each transformation in your surrounding environment – all the while bringing you face to face with the primal desire to maintain your individual identity while being part of a crowd.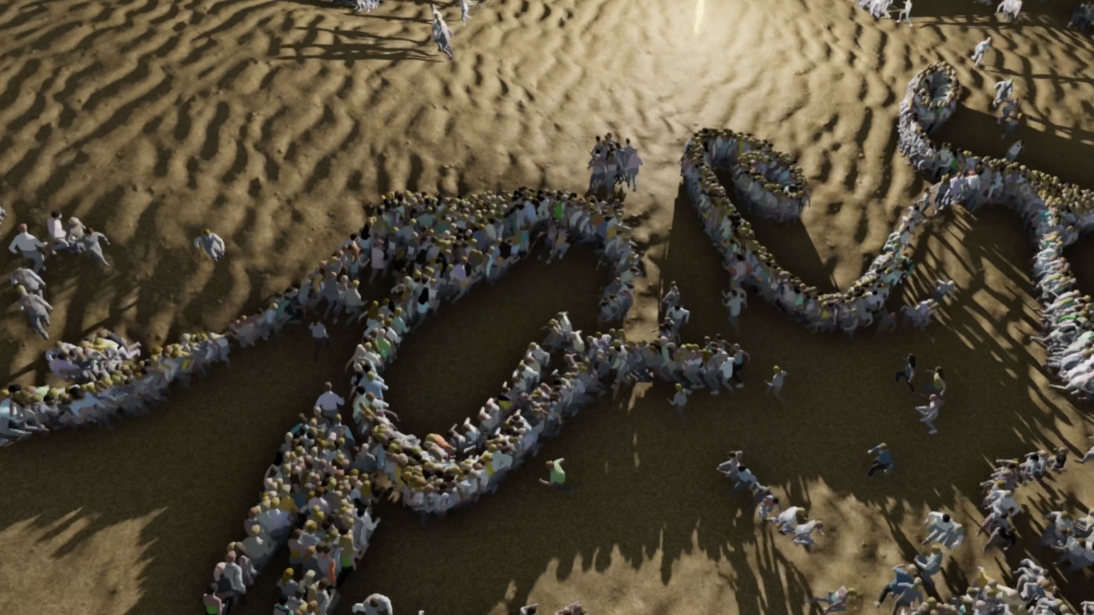 Available for licensing, screenings and exhibitions
Editions
Edition of 6 with 2 artist proofs
Exhibitions
Sundance Film Festival: New Frontiers, 2019
Sónar+D, Barcelona, 2019
Geneva International Film Festival, Switzerland, 2019
HUM(AI)N, Center Phi, Montreal, 2019
Credits
Creative Director: Matt Pyke
Developer: Chris Mullany
Sound Design: Simon Pyke
Senior Producer: Greg Povey
Press
"A surreal experience and an intriguing look at where virtual reality can take us – particularly considering the current ongoing social distancing we are all facing in our real lives."

"Infectious, stylish weirdness."